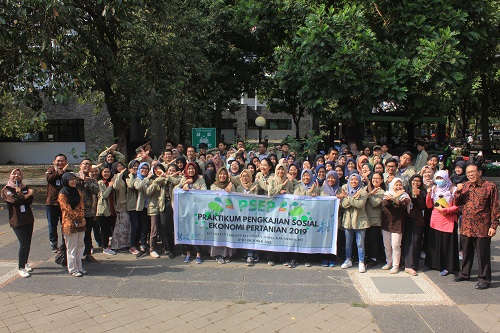 One of the typical courses of the Agricultural Economics and Agribusiness Study Program is the practicum course on Agricultural Socio-Economic Assessment (PSEP). In 2019, the course coordinated by Arini Wahyu Utami SP, M.Sc., Ph.D. carried out practicum activities in Turi and Tempel Districts, Sleman Yogyakarta Regency. The practicum activity was released by Dr. Jangkung Handoyo Mulyo, M.Ec, as the Head of the Department of Agricultural Socio-Economics.
In this course, students have the opportunity to live with farmers for 4 days, accompanied by lecturers and practicum assistants. Students learn to observe and study how a farmer manages his farm. Besides, students also learn to calculate how the condition of a farm is seen from a social and economic perspective.
This practicum activity is one of the routine practicums carried out from year to year. The location of the practicum has moved, but still puts forward benefits for both students and the community. With this activity, it is hoped that students can gain a lot of practical, grounded experience, as well as have good social sensitivity. Interesting right?