The Agricultural and Agribusiness Economics Study Program has been accredited "A" by BAN-PT (National Accreditation Board for Higher Education), the highest level of a study program in Indonesia. Accreditation is carried out every five years, with the last period valid until 2024. Accreditation Certificate can be obtained through the following link:
1. Accreditation Certificate 2009-2014 (Download)
2.  Accreditation Certificate 2014-2019 (Download)
3. Accreditation Certificate 2019-2024 (Download)
The Agricultural Economics and Agribusiness Study Program has also been internationally certified by AUN-QA (ASEAN University Network-Quality Assurance).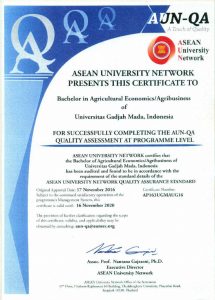 [NEW]  Certificate of Substance Equality of Agricultural Economics and Agribusiness Study Program (2021) can be downloaded here : Certificate of Substance Equality